Barratt Homes, the UK's largest housebuilder has undertaken a survey of home type breakdown based on Land Registry data. It's presented as though the whole population lived on a single street. You can select the region on the interactive street image. The make up of the street changes to reflect the regional breakdown by changing the size of the home type, we love it!
For the UK as a whole, our imaginary street would be made up of:
32% semi-detached with an average price of £206,873
25% detached with an average price of £332,839
26% terraced with an average price of £177,379
14% flats with an average price of £199,075
Regional Variations
The exercise shows the wide variations across the country:
43% of Londoners live in flats whereas only 5% do in Northern Ireland
The average detached house cost £899,798 in London compared to £208,132 in the North-East
Only 8% of Londoners have detached homes whilst in the West Midlands the figure is 40%
London apartments cost a whopping £428,476 on average, about four times for a flat in Wales
Northern Ireland tops the list for living in a detached house at 43%, double that of the North-East where prices are similar
To see the full report, click on this link Barratt Homes, UK in a Street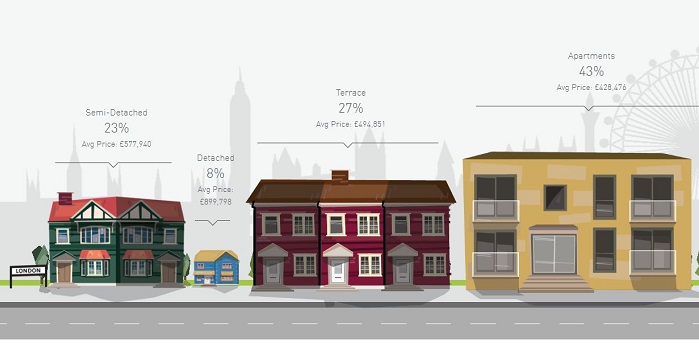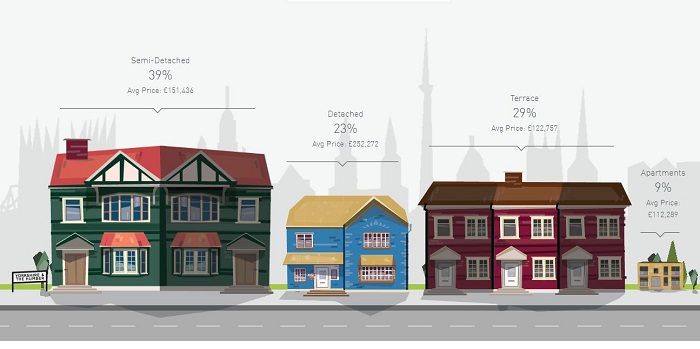 Data was sourced from the Land Registry UK House Price Index dated April 2017, ONS Census Data for England and Wales, NRS Census Data in Scotland and NISRA Census Data in Northern Ireland.