You must understand that moving to a new home can be a stressful experience for your pet. They are suddenly thrust into a new environment and will most likely be confused. You must plan ahead of time if you want to minimise the problems that are almost certain to arise. Fortunately, you don't have to do much. All you have to do is make your new home pet-friendly. If you do this, you will not only make your pet happy, but you will also make your new home a more pleasant place to live. With that said, here is how to make your home more pet-friendly.
1. Create a Space Just for Them
When you are moving into a new home, you are moving into a new environment. You will most likely want to explore this new area to familiarise yourself with it. Well, the same will happen to your pet. Kittens and puppies will want to explore all the nooks and crannies in their new home. You need to be aware of this because it can be dangerous. Your pet can get trapped somewhere it shouldn't when you're not there to help. However, you won't have to worry about them taking sanctuary somewhere they don't belong if you give them their own area. A secure zone with a comfortable bed, a water supply, and a few toys to keep them occupied.
Ideally, you should plan your pet's space ahead of time. This way, you'll know where everything goes when packing and organizing your furniture. Additionally, there are some things to keep in mind before looking for movers. You should look for reputable movers who understand what you're trying to do. You can even ask them to recommend the best furniture placements so that you and your pet have enough space.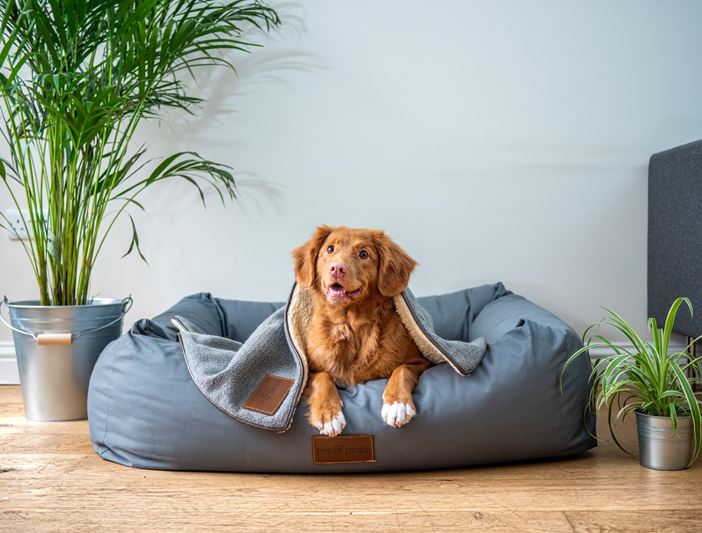 2. Purchase Pet-Friendly Furniture
If you want to avoid as much damage to your furniture as possible, you should look for specific furniture. When you are selecting upholstered, or slip-covered furniture made out of materials that are resistant to stains is the way to go. People who share their sofas and chairs with pets should be cautious of more than just pet hair and dander.
Stinking smells and unsightly stains may also penetrate into some materials. This can be very unpleasant, especially if you are a person that likes to keep your home tidy. A tidier home is one of the benefits of regular decluttering. Avoid any expensive/luxury materials that can easily scratch or stain. We suggest you completely avoid materials such as velvets, silk, and tweed when shopping for pet-friendly furniture. Instead of those materials, you should choose furniture made of synthetic materials.
That being said, nowadays, you can buy furniture with just about any texture or design, so you don't have to sacrifice aesthetics for functionality or security. Just make sure that you buy scratch and stain-resistant furniture, and you will not have any issues with your pet in this regard. Remember that most furniture manufacturers will inform you which textiles are stain-resistant. When choosing a sofa, it's also a good idea to avoid bright colours. The main reason for this is that the brighter the colour, the more visible the stains that your pet will make are going to be.
3. Buy Pet-Friendly Flooring and Fabrics
If you want to make the flooring in your home more pet-friendly, the same applies to the furniture. For the floor, you need to choose the materials and the colours that will make your life as a pet owner easier. That means it would be in your best interest to choose dark colours, and if possible, avoid carpeted floors. However, like with furniture, these days you can find carpeted floors that are stylish as well as strong. If you know where to look, you can find synthetic germ- and stain-resistant flooring materials that are meant specifically for pet owners. Carpet isn't the ideal option for pet owners, but if you must have it, select a colour that matches your pet. This will help hide the hair of your pet. That being said, the best option you can go with is tile flooring or hardwood. Hardwood with a sufficient urethane finish is a popular and easy-to-clean option for lightweight dogs. Ceramic tile or similar nonporous hard surface flooring would be ideal for larger dogs.
4. Make Your Garden Safe for Them
If you allow your dogs out in the yard, you need to think about a couple of things. The first thing you need to make sure is that your yard is tick and flee-free. You don't want your dog to bring these little bugs into your home or, worse yet, become sick. For this reason, you should hire contractors who can check to see if your yard is safe for your pet. That being said, flea and tick prevention isn't the only thing you need to pay attention to.
If you want to start a small vegetable garden in your backyard or plant some exotic ferns or flowers, you must ensure that your pet is not allergic to any of them. You also need to eradicate all poisonous plants from your garden. You can look up the ASPCA catalogue of toxic plants for your pet. Examples of such plants are azaleas, ferns and ivies, daffodils, and daylilies. Bamboo and, of course, catnip are two pet-friendly plants. Before you plant anything, check the ASPCA's Toxic and Non-Toxic Plants database.
Conclusion on making your home more pet-friendly
As you can see, there are many things that you need to consider when moving into a new home with your pet. However, there are many more things that you can do to make your home a better place for your pet, but we decided to focus on what we thought would be most helpful to someone who is just moving in. Therefore, now that you know how to make your home more pet-friendly, you can go ahead with your move, knowing that both you and your pet will be happy in your new home.